23.Dec.2020
2021 International Residential Architecture Conceptual Design Competition is closed
Works from 35 countries are chosen for final review
Event message
---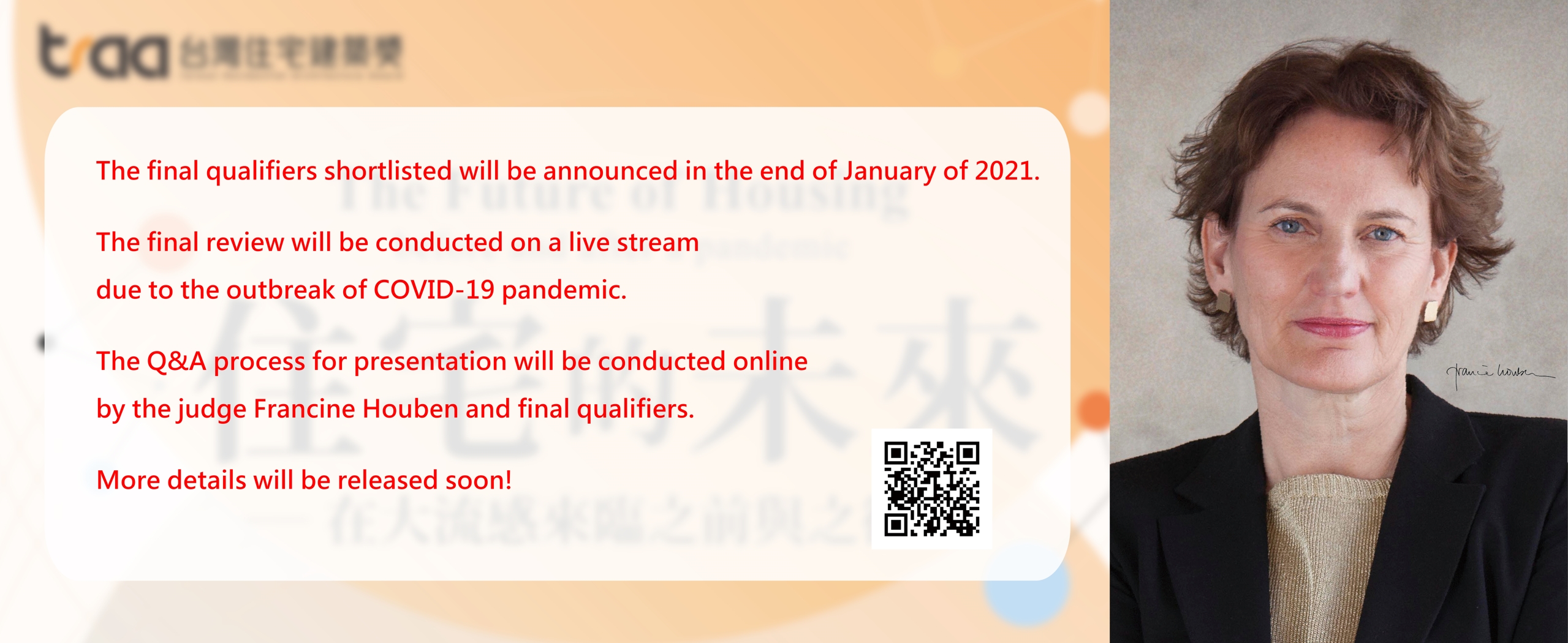 Submissions for the second 「International Residential Architecture Conceptual Design Competition」 is closed on November 30th , 2020. The competition is proposed by Sun-Yuan Architects & Associates, hosted by Taiwan Architecture Magazine and with the judge Francine Houben architect(Creative Director, Mecanoo. The Netherlands). The total of 328 works from 35 countries has been collected over a period of 5-month submission for chasing the total prize of US$10,000. The number of 46 works and 18 countries are increased separately, compared to last competition.
The purpose of the competition is to encourage young architect-related workers and students to have creative design to solve demand and development for our residential environment and to enhance well-being worldwide, based on the subject of the competition. The judge Francine Houben particularly makes the subject of 「The Future of Housing-before and after a pandemic」to response to the worldwide pandemic of COVID-19 reported from the end of 2019, and expects to create a new「livable」environment through the competition. Residents can live sustainably with the secure of safety and connection.
The competition this year is supported by architect-related workers from 35 countries. The review of submissions will be conducted prudentially by 2 steps which concludes the announcement of shortlists in the first round at the end of January 2021 and final review at the early of March 2021. Due to the unceasing pandemic of COVID-19, causing the situation of tens of thousands confirmed cases worldwide every day and many cities around the world going into lockdown to control the spread of COVID-19. Therefore, the host decides to conduct the final review on an open live stream to secure safety and fairness for participants. The participants and global viewers can watch the process and discuss all possibilities of housing design for the era of post-COVID-19.
More information of the competition and housing development of post- COVID-19 will be released in the official website and Facebook. Please stay tuned.

【Taiwan Residential Architecture Award (TRAA)】
Official website:www.traa.com.tw
Official Facebook:www.facebook.com/TRAA.RESIDENTIAL.AWARDS